Official Rome and Vatican ticket reseller
Roma Pass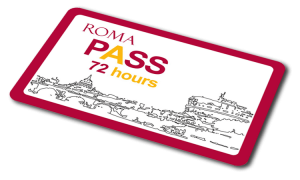 Roma Pass 72 Hours
, which is sponsored by Rome City Council and the Ministry for the Arts and Cultural Activities, in collaboration with ATAC, the public transport company, is the capital's special tourist-cultural card that allows tourists to access a variety of discounts and services that make it easier and cheaper to enjoy the beauty of Rome.
Free entry to the first 2 visited museums and / or archaeological sites of your choice. Free admission includes the exhibition held in the museum.
Reduced ticket to all other museums and / or archaeological sites visited thereafter. The concessionary ticket includes the exhibition held in the museum.
Valid 72 hours from the first validation for access to museums, archaeological sites and local public transport.
Free use of the city's public transport network. It is valid on all means of local public transport operated by ATAC (bus, metro A, B, B1 and C and railway lines Roma-Lido, Roma Flaminio Piazza del Popolo-Viterbo, Roma-Giardinetti), within the territory of the Municipality of Rome. ATAC Bus line 720 to connect Ciampino Airport to Laurentina Station Metro B and the ATAC Bus line 520 to connect Ciampino Airport from/to the Metro A stations of Subaugusta (bus terminal at the square in front of the Metro stop) and Cinecittà. Must be completed in its entirety and is not transferable. The card must be presented at the request of control staff, together with a valid ID. All special connections tpl Atac, the railway lines Trenitalia FL, the connection Tiburtina/Termini/Fiumicino Airport, the connection Trenitalia "No stop" Roma Termini-Fiumicino Airport (Leonardo Express) and all connections to and from Fiumicino Airport are not included.
Discounted tickets to exhibitions, events and other collaborating operators and businesses (please, visit the Events and Tourist Services sections on Roma Pass web site).
At Castel Sant'Angelo and Musei Capitolini Roma Pass 72 Hours holders have direct access to the security check point, without waiting in the ticket window line. We remind to visitors that in this period, according to public order reasons, controls have been intensified and therefore there might be delays due to public security operations.
In the kit:
The Roma Pass 72 Hours card: the card used to visit museums / archaeological sites and on the public transport system as described above.
You can check the full museums list here