Official Rome and Vatican ticket reseller
Skip the line tickets & Open bus
Three 24, 48 or 72 hours itineraries cards. Discover the three citypass, save money and get access to Rome treasures.
Single Tickets
Skip the line and be inspired by the amazing historical and artistic itineraries of Rome
The freedom to explore the beauty of the eternal city with the Hop On Hop Off option.
Discover the city at your own pace in 24 hours and create your Rome tour with the Hop On Hop Off service offered by ORP.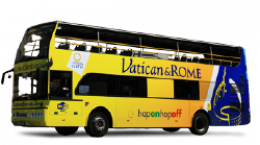 The shuttle bus service of SITBusShuttle is the best way to reach Fiumicino Airport, Ciampino Airport and Ciampino Station from Rome's Termini station, quickly and safely.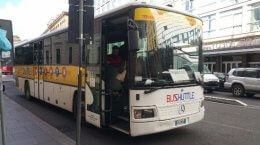 From Rome Center to Ciampino Airport
From Rome Center to Fiumicino Airport
From Ciampino Airport to Rome Center
From Fiumicino Airport to Rome Center
Why have millions of travellers chosen us?

Official Partners of ORP and SITBUS
We have a special relationship with our suppliers, and we guarantee you maximum support

Payment Options
We work with STRIPE: a payment solution that is fully compliant with international standards for data protection and adheres to the security protocols of payment circuits, global and flexible for marketplaces.

Free Companion App
Always carry your tickets with you, check and manage your reservations, and get tips to enjoy the city like a local.

Order and Payment Tracking
At every stage of the payment you will be able to verify what you are about to pay: no hidden costs, clear and obvious exchange rate calculation, SSL certificate.

A Real Insider in Rome
We tell you all about the neighborhoods of Rome as only a Roman can do.

Exclusive 48h Card
The Omnia 48h is an exclusive card created by Opera Romana Pellegrinaggi only for our website.
What are the opening hours of your Customer Care?
We offer customer support from Monday to Friday, via chat or the contact form on the site.
The Italian, French, Spanish and German Opera Romana Pellegrinaggi operators are available by telephone from 08:00 a.m. to 6:00 p.m., from Monday to Friday and from 09:00 a.m. to 3:00 p.m. on Saturday.
What do I do if I'm late for my visit?
Contact the ORP tour operator for instructions. There is no guarantee that you will be able to participate in a later visit, as it may already be fully booked. Please take into consideration the time needed to reach the starting point in time for the start of your visit.
I forgot to print my voucher; can I still show it on a smartphone?
Most partners accept vouchers on smartphones. To bring the vouchers with you, download the Rome & Vatican City Card App.
What should I do if I have a problem after my purchase or during an activity?
Check the information on the voucher of the order you received and search through our FAQ. If you can't find an answer, contact the customer support.
What happens if I lose my voucher or cancel the payment confirmation email?
If you have registered yourself, all the details on the purchases made can be retrieved with your email. Contact the customer service and we will send you the booking confirmation again. If the booking requires the voucher to be printed, you will have to print the voucher again to access the attractions.