Official Rome and Vatican ticket reseller
Colosseum, Roman Forum, Palatine Hill and Carcer Tullianum
Single ticket
The Tulliano Prison, also known as Mamertine Prison, is the oldest prison in Rome, located for its historical importance in the heart of the city, near the Via Sacra nel Foro.
Overlooking of the Roman Forum, it has been one of the most precious architectural and historical treasures of the capital for more than 3,000 years. The Colosseum, originally known as Amphitheatrum Flavium or simply as Amphitheatrum, is the largest amphitheater in the world and it is located in the center of the city of Rome.
Meeting point: The entry tickets to the Colosseum, Forum and Palatine Hill will be printed at Carcer Tullianum Via del Clivio Argentario, 1.
Booking for accessing is required only to Roma Pass holders.
Colosseum, Roman Forum, Palatine Hill and Carcer Tullianum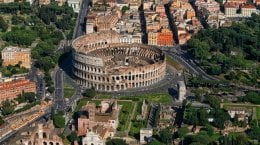 Reserve Now

Colosseum, Roman Forum, Palatine Hill and Carcer Tullianum