Official Rome and Vatican ticket reseller
Vatican Gardens in Minibus, Vatican Museums and Sistine Chapel
Single ticket
The gardens have been the resting and meditation place of the Roman Pontiff since 1279, when Pope Nicholas III (Giovanni Gaetano Orsini, 1277-1280) moved the papal residence back from the Lateran to the Vatican.
Within the new walls, which had to be built to defend his residence, the Pope had an orchard (pomerium), a meadow (pratellum) and a real garden (viridarium) planted.
Vatican Gardens in Minibus, Vatican Museums and Sistine Chapel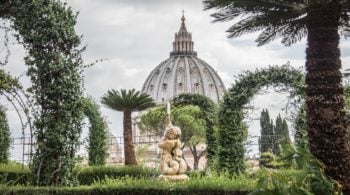 Reserve Now

Vatican Gardens in Minibus, Vatican Museums and Sistine Chapel
Why have millions of travellers chosen us?

Official Partners of ORP and SITBUS
We have a special relationship with our suppliers, and we guarantee you maximum support

Payment Options
We work with STRIPE: a payment solution that is fully compliant with international standards for data protection and adheres to the security protocols of payment circuits, global and flexible for marketplaces.

Free Companion App
Always carry your tickets with you, check and manage your reservations, and get tips to enjoy the city like a local.

Order and Payment Tracking
At every stage of the payment you will be able to verify what you are about to pay: no hidden costs, clear and obvious exchange rate calculation, SSL certificate.

A Real Insider in Rome
We tell you all about the neighborhoods of Rome as only a Roman can do.

Exclusive 48h Card
The Omnia 48h is an exclusive card created by Opera Romana Pellegrinaggi only for our website.