Official Rome and Vatican ticket reseller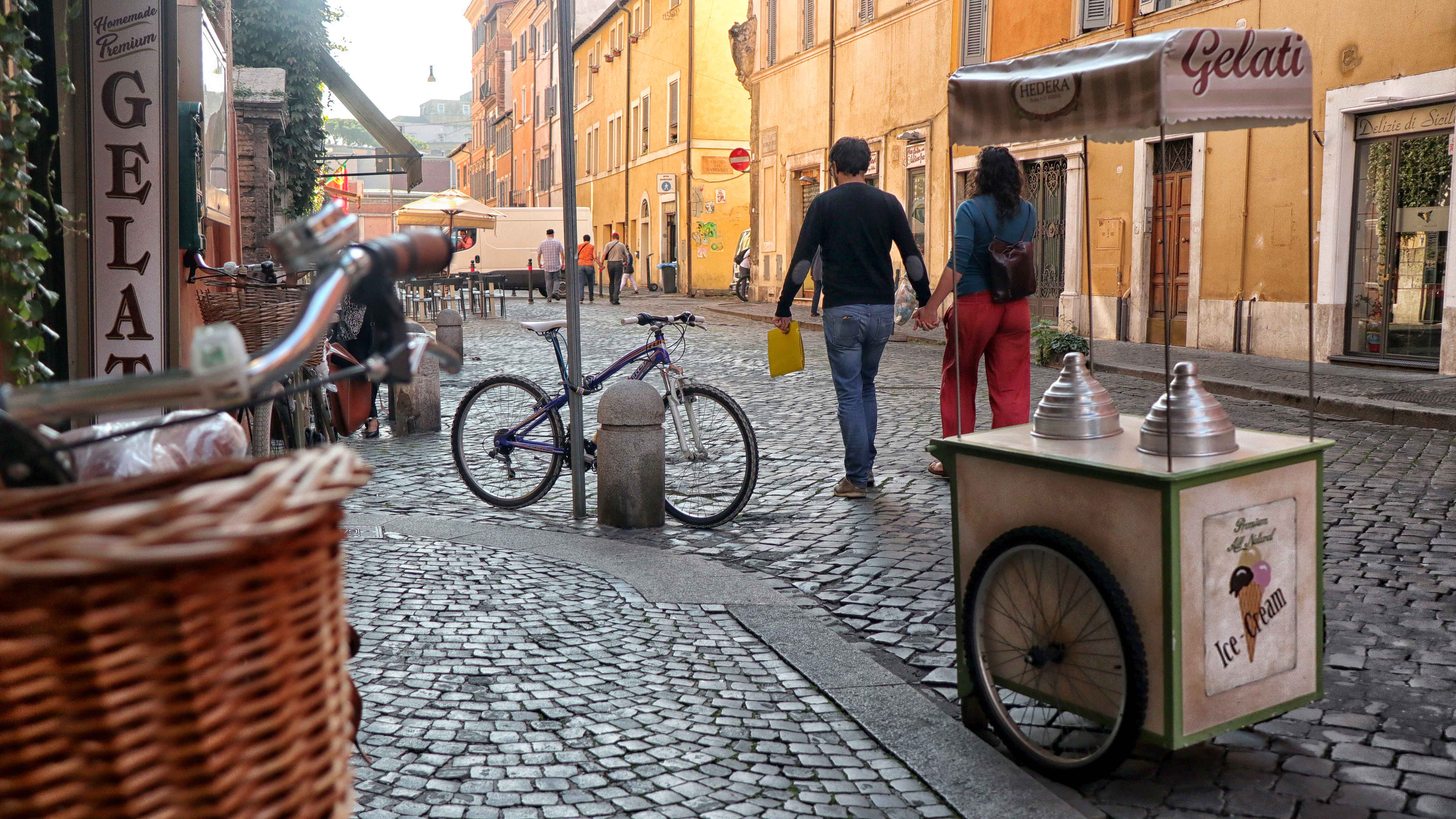 Shopping in Rome
The shopping streets, the boutiques, the markets – where to buy and what to buy in Rome.
Are you passionate about shopping? Can't you live without buying something even when you are on vacation? Would you like to spend happy hours between shops and vintage markets while visiting the eternal city? Here are some tips on where to buy and what to buy in Rome: the capital does not offer visitors only history and culture but also interesting alternatives in terms of shopping. As in many Italian cities, fashion and craftsmanship are part of the cultural heritage, so you will find many markets and shops where you can buy everything and more.
Each neighborhood has its own identity and this is reflected in the commercial offer. Food, leather goods and jewelry are the masters of the many shopping streets, craft shops and flea markets.

The shopping trident
Located between the most famous Roman square (Piazza di Spagna) and the Pantheon, this is one of the most exclusive areas for shopping. In Via Condotti, Via Frattina and Via Borgognona there are shops with big names such as Armani, Tiffany, Versace and the most important fashion, jewelry and leather shops in Rome. The area is internationally recognized as one of the most renowned because it is not only rich in historical heritage but also in culture. Many personalities of a certain caliber like Federico Fellini, Goethe and Keats lived in this neighborhood. These streets are mostly crowded with tourists in search of "Made in Italy". On Via del Corso, which is the longest of Rome's shopping streets (extending over a kilometer and a half from Piazza Venezia to Piazza del Popolo), there are instead the affordable international chains and midway there is a commercial gallery dedicated to Alberto Sordi, originally "Galleria Colonna", where there are over 20 shops and several refreshment areas.

Via del Campo Marzio
Via del Campo Marzio is a parallel street to Via del Corso and is very famous for its boutiques. This route was an important center of exchange already in Roman times. Most shops are dedicated to antiques and homeware. You can also have the opportunity to admire Piazza Sant'Eustachio and sumptuous palaces such as Palazzo Borghese and Farnese. Nearby there are other streets where you can go shopping while experiencing historic Rome. Depending on your time and mood, you could take a trip to Via Margutta at the annual exhibition of the "100 Painters on Via Margutta". There are more than 1000 works by well-known and less known artists on display. Many famous artists passed through this street, including Pietro Paolo Rubens, Nicolas Poussin, Pablo Picasso and Antonio Canova. This exhibition was born in 1953 because some artists wanted to give new life to the street that had always hosted them. If you are searching for modern design objects such as Bauhaus furniture, you will find renowned shops and galleries in the surroundings of Via del Babuino.

Via del Governo Vecchio
Via del Governo Vecchio is a commercial area not far from Piazza Navona that offers the opportunity to shop in historic vintage clothing shops such as " used vintage clothes Cinzia ", which is located at street number 45. There are also many pubs, wine bars and grocery stores that offer typical Italian food like the "DeliRome". For film and book lovers the advice is to pass by "AltroQuando": a special bookshop specializing in cinema where you will have the chance to find printed books and DVDs that are dedicated to the cinema, as well as trying craft beers, listening to live music or attending the presentation of a book in the pub on the first floor of the bookshop.

Porta Portese Market
This is the most famous market and one of the oldest in Rome. Its birth dates back to the 18th century even if it has only been in its current position since 1935. Porta Portese Market has taken its name from the ancient defensive gate that is next to it and it represents the typical Roman street market.
This characteristic has been repeatedly brought to light by movie directors and singers, such as Claudio Baglioni who dedicated a song to it. The market is held on Sunday mornings from 06.00 a.m. to 2.00 p.m. You can really find everything among the colorful and noisy stalls: groceries, handcrafted products, used and nowhere to be found items. The market has inspired the birth of a famous buying and selling newspaper, which has been online now for some time.

Via del Pellegrino
This street's original name "via degli Orafi" was replaced with the current name over the years one for the nearby inn that welcomed the faithful on pilgrimages. Despite the fact that over time many of the craft shops that were there have been replaced by more modern shops, it is still possible to purchase handmade items, such as the bikes offered by Collalti Bici, which was established in 1899, or the L'Argania shop that sells eastern items.

Via di Cola di Rienzo
This street is located in Prati zone and for many it appears to be the new Via del Corso. The shops on Via Cola di Rienzo offer a wide range of products, from clothing to crafts. Very close to Via Cola di Rienzo, there is Piazza dell'Unità where you have the opportunity to go shopping in one of the last remaining indoor markets. The indoor Market of the Unity was built in the 1920s and boasted more than 130 shops, while there are only 30 left today. Most stalls sell 0km typical dishes like the fresh fish that the owner of the fish market gourmet Fish & Chic auctions off every morning or the fresh flowers and the regional specialties from the Lamolisana stall.

Via Guglielmo Marconi
Located outside the historic center, this street is ideal for whoever suffers with crowded places but loves shopping. Given the fact this area was already economically active and popular in Roman times, today there are several sites of archaeological interest here. The shops are concentrated between Piazza Radio and the Marconi bridge. The commercial offer is wide and varied, it goes from bookstores to sports shops but even here there are mainly international chains like Original Marines, Unieuro, etc. Far from the chaos, located in one of the cross streets, there is the CAFÉ MERENDA: a small place that offers delicacies for all tastes, be it sweet (spoon desserts, bagels, etc.), or savoury ones (soups, centrifuges, etc.).

Testaccio Market
This is the market of the 20th neighborhood of Rome. Like the Porta Portese market, also Testaccio market has very ancient origins. In 2007 it moved to the new location (recently renovated). There are more than 100 stalls here that offer products ranging from food, clothing and home care. If you are a street food lover, you can't miss it. In addition, you can visit the dungeons of the new market, which have been brought to light after years of excavation and restoration, where there are the remains of an ancient horreum (a Roman warehouse), which still preserves hundreds of findings.

Via del Boschetto
It is one of the main streets of Monti zone. You can count on a large presence of vintage clothing boutiques, high fashion ateliers, antique craft shops and important art galleries while visiting this area. Going to visit Monti Market on Sundays is a must and there are hundreds of people searching for a unique handmade piece. This market is similar to British urban street markets.

Viale Europa
Viale Europa is the commercial area of EUR and the famous economic-financial center of Rome.
The neighborhood is full of clothing, accessories and leather goods stores and is ideal for those who want to avoid the chaos of the historic center.
Via Appia Nuova
It is an ancient Roman road that was transformed into a state road. The most interesting stretch for shopping on this street is certainly the one that goes from Piazzale Appio to Largo dei Colli Albani, where you can stroll around the typical market zone of Via Sannio on weekdays and mornings. This was a famous market for the sale of clothing in the 1960s and 1970s, where nowadays stalls also sell jewelry, home accessories, fishing gear, bags and much more.

Via Tuscolana
Via Tuscolana is the low-cost Roman shopping street. At the end of the street you can find one of the largest shopping centers in Rome "Cinecittà 2". This mall was the first one in Rome and was inaugurated in 1988. Most of the shops inside are international chain stores.

Piazza Euclide and Viale Parioli
In this area there are small boutiques of high fashion for the wealthier pockets. In addition to clothing, the Parioli area is equipped with food shops such as * Gargani Parioli * or Sapori Ai Parioli by Maria Grazia Servin where you can try typical Italian products such as wine, oil, desserts and cheeses.