Official Rome and Vatican ticket reseller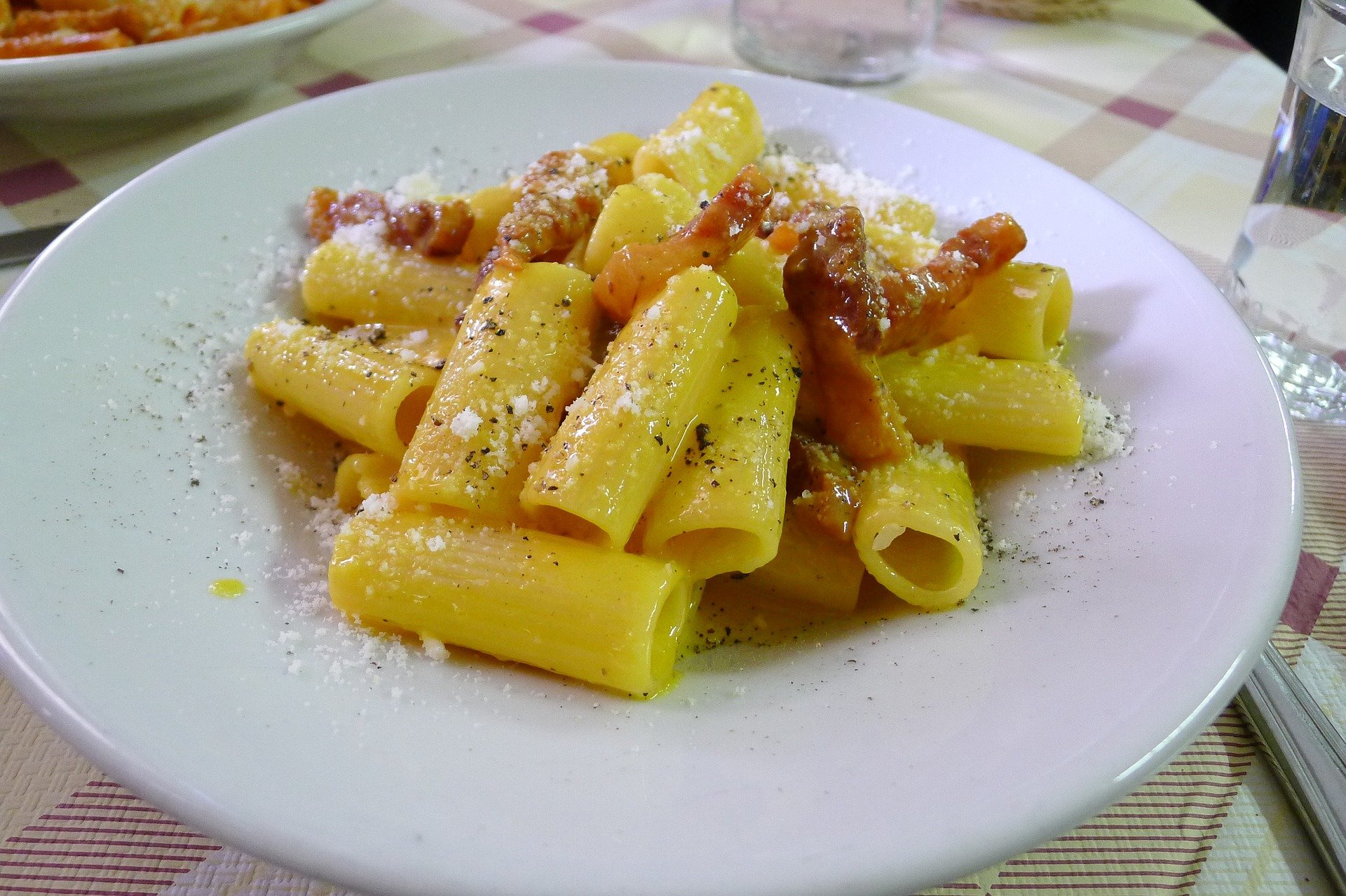 Eating in Rome
Where to eat typical dishes and the best food in Rome
Rome is a city in continuous evolution that, among all Italian cities, has experienced the most international contamination. As for the typical cuisine, fortunately, no contamination has occurred: the dishes remain the same as ever, prepared with simple and genuine ingredients, according to ancient family recipes.

What are the typical dishes of Rome and where can I eat the best ones?

Carbonara pasta
We have to start with one of the most famous Roman dishes in the world: carbonara pasta.
The origins of this dish are still unknown. Some think it dates back to the times of the Second World War, during which a way to consume the eggs and bacon purchased on the black market had to be found; others think it was a typical dish of the Carbonari, who cooked it in their hiding places, because it was easy to prepare. Like many other recipes, there are different schools of thought also for carbonara: there are those who prepare it with whole eggs, those who use only the yolks, those who like it exclusively with spaghetti and those who prefer it with rigatoni. However, where can we eat a nice dish of carbonara pasta?

Osteria Angelino
Only a few steps from the Colosseum, Osteria Angelino, is a truly authentic restaurant full of many memorabilia of the Capital, which make guests feel at home. Osteria Angelino is open every day for lunch and dinner and has 100 seats. Among the typical dishes of the restaurant, the most requested is the famous carbonara that, in this case, is served with rigatoni that are impossible to forget!

Coda alla vaccinara
This oxtail stew is certainly not a refined dish but is mouth-watering when properly cooked. It is a recipe from the poor tradition; in fact, it was very common among poor people who could not afford to buy meat often. Indeed, the common folk were reserved for cattle waste, the most difficult to cook. To prepare this oxtail stew, you need to peel it, cut into pieces, boil it and then enriched with a tomato and celery sauce. This sauce is so good that not "making the little shoe", – which is an Italian saying for mopping up the last of the sauce on your plate with a piece of bread- is a crime. Here is a list of the restaurants where to eat the best oxtail stew in Rome.
Cecchino since 1887: This is a historic restaurant in Testaccio, which was once the landfill of earthenware amphorae. Not surprisingly, therefore, the room of this restaurant is derived from a part of earthenware. The Mariani brothers, who run the restaurant, carry on the family tradition. We must not be frightened by the appearance of the room, which is a bit old-fashioned, because the dishes are something exceptional and, in particular, the oxtail stew seems to really have something extra.

Sliced pizza
Sliced pizza in Rome is an institution, it is no coincidence that there are more pizzerias that sell sliced pizza than cafes! The famous slice of pizza is a real must for fast food in Rome, which manages to bring together people of all ages, social classes, sex or ethnicity. It doesn't matter if the pizza is high and soft, low and crunchy, stuffed or white with "mortazza" (mortadella), just eat a slice and you will feel in paradise. There are many good places to eat sliced pizza, but there is one in particular where you must go.

Pizzarium
Having become famous thanks to television, Gabriele Bonci is one of the masters of Roman-sliced pizza.
His restaurant, Pizzarium, is located in the area of the Vatican Museums and is always full of people.
What is his secret? Surely the exceptional long leavening dough and the fillings that go perfectly together. You will find different pizzas at Pizzarium every day, based on seasonal vegetables and on the chef's imagination.

Cacio e Pepe: Pasta with cheese and pepper
One of the most famous dishes of the Roman tradition, cacio e pepe, is a pasta that is apparently very simple to prepare, but which instead hides several pitfalls. The secret of a good pasta with cheese and pepper are the creaming of the three ingredients, the right doses and the specific way you have to prepare the sauce. Today, cacio e pepe pasta, which belongs to the historical peasant tradition, has undergone several variations, but some people still prepare it as it used to. Here is a restaurant where to eat a mouth-watering cheese and pepper.
Felice in Testaccio
In 1936, the young Felice opened his own restaurant in Testaccio, which is now the most famous restaurant in Rome. Felice a Testaccio is open every day to delight its guests for lunch and dinner. Its "cheese and pepper" is the best in the city; it is served with tonnarelli, a sort of egg noodles, particularly suitable for absorbing the creaminess of pecorino, and it is a real magic to see how it is seasoned at the table.

I saltimbocca alla romana
Roman saltimbocca is one of the typical second dishes of Roman cuisine that are famous worldwide. According to the traditional recipe, the "Roman jumps in the mouth" are prepared with veal slices, each of which are laid on a slice of prosciutto and a sage leaf. The slices are then rolled and closed with a toothpick and cooked in a pan with melted butter and white wine. Here is where to eat such delicious Roman saltimbocca that jump in the mouth!

Alla Rampa
Alla Rampa is a historic restaurant that is just a few steps away from Piazza di Spagna, in a little quieter square. Despite being always crowded, Alla Rampa always offers impeccable service and dishes.
Enjoying the famous Roman saltimbocca with a side dish of your choice, comfortably seated at one of the outdoor tables, is something to experience at least once in your life.
Maritozzi alla panna
Roman cuisine is not very famous for desserts and in fact does not offer many. Those few, however, are something truly divine. Among them, we could not have mentioned these whipped cream buns, the breakfast pastries of Rome par excellence. Here is where to enjoy an excellent maritozzo alla panna accompanied by a warm cappuccino.

Pasticceria Regoli
Despite its 100 years of activity, the Regoli pastry shop has always maintained the quality of its products.
Here, it is possible to taste the maritozzi in the classic version (filled with whipped cream) and in the Lenten version, available all year round, with oil mixture, raisins and pine nuts.